Looking to find a VW Campervan for sale?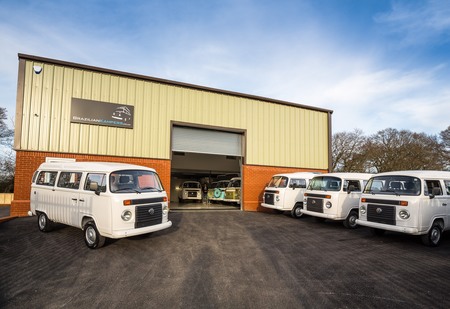 Every month thousands of people are looking for VW Campervans for sale in the UK which for a 'little bus' that started off life as a 'motorised trolley' transporting parts and spares around the Volkswagen Factory in the town of Wolfsburg, around 225km West of Berlin, is pretty impressive.
The story goes that Ben Pon, a Dutch business man who ran Pon's Automobielhandel, the first ever dealer of Volkswagen cars outside of Germany, was visiting the factory and noticed that to transport parts around the factory a stripped down Beetle chassis with a wooden platform was being used. He made a pencil sketch of how he thought the trolley could be developed into a van – and it is this drawing that is reputed to have been the start of what became a world wide campervan phenomenon.
The Volkswagen van Sketch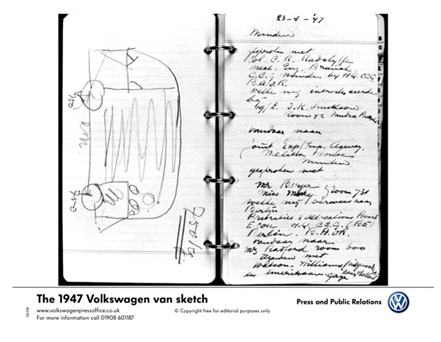 The idea was pursued by Heinrich Nordhoff, an engineer who was recruited as the Managing Director of the Wolfsburg Plant after World War II. Under his leadership productivity at the plant doubled and by 1961 production exceeded over 1m vehicles a year.
Volkswagen launched the first VW transporter, based on Ben Pon's original sketch at the Geneva Motor Show in 1949. The transporter was considered to be a versatile load and people carrier. There was a basic Panel Van used for carrying loads but with the addition of seats, doors and windows the magic of the campervan started to take shape.
Just to clear up some confusion about names. The Beetle was officially known as the T1 – so when the transporter was launched it became known as the T2 – but confusingly the van became known as the Type 2 T1 – or the T1!
The van was positioned as affordable and adaptable and the design quickly became associated with iconic 20th century design.
In 1951 VW licensed Westfalia to produce a campervan using the Transporter base and from 1955 these started to be exported. Westfalia produced innovative 'camping' features that could be installed by owners who wanted to use the van for work purposes during the week and for camping at the weekend.
VW Kampers VW Campervans
See the full range of campervans we have for sale here at VW Kampers on our In Stock page. Below you can see the latest in stock VW Campervans we have for sale.