PART EXCHANGE YOUR DANBURY
VW Kampers are extremely proud to offer a new, professional and knowledgeable part-exchange service on T2 and Danbury Camper Vans for those in search of the perfect T5 and T6 VW model. We aim to expand our already growing reputation as the most comprehensive Volkswagen Camper Van service in the south of England.
For those who already own a T2 or Danbury camper, we can help you locate and source stunning T5 and T6 vehicles. While it may seem like a daunting experience, our team are experts and perfectionists in their field, with many years experience and a warm and helpful ethos that stems from our family-run background.
Based in Henfield, Sussex, our gleaming showroom and workshop now extends our professional services in maintenance, refurbishment, conversion and modification to also offer part exchange services to those already in love with the VW camper vehicles and the versatile lifestyle and joy we know that they bring.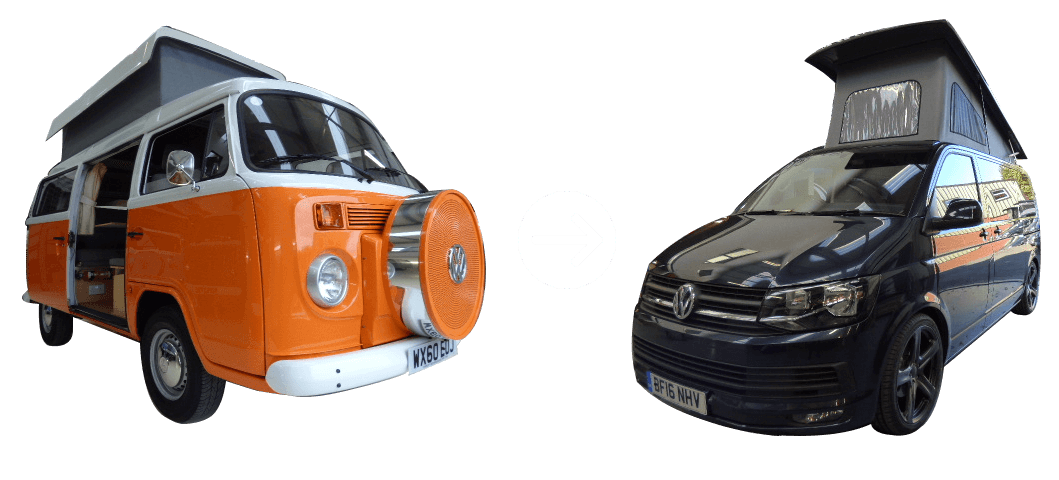 Why Part Exchange With VW Kampers?
Competitive Rates
VW Kampers are able to give very competitive rates on any vehicle. If you are looking to Part Exchange, don't accept any offer until you have spoken to us.
Secure & Safe
Selling your camper can be risky. If you choose to part exchange your vehicle with VW Kampers, you'll be secure in the knowledge that nothing underhand will occur.
Excellent Service
As a family run business VW Kampers will always provide you with outstanding service from people who live and breathe campervans every day.
Quick & Convenient
When you part exchange you camper with VW Kampers, you don't need to wait an indefinite amount of time to see when – and if – your camper will attract a buyer
Stress & Hassle Free
Part exchanging is far less hassle than taking out a classified and dealing with potential buyers who could ultimately decide not to take the camper after coming to see it.
Competitive Finance Terms
At VW Kampers, we aim to make buying from us as flexible as possible. We are partnered with nationwide automobile finance company Close Brothers.